---
Your Must-Have Kitchenware! The Roll-Up Dish Drying Rack helps to extend the draining area and free up valuable counter space!

Fits well on any sink, allowing you to dry your dishes, cups, plates, bowls, pots, pans, etc. & prevents your countertop from getting wet!
Offers great functionality to deal with a variety of kitchen tasks:
A colander for fruits & vegetables 
A defrosting rack for meat & fish 
A bread cooling rack 
A trivet for hot pots and pans
FEATURES:
Effective Dish Drying: Offers extra space for draining washed dishes, cups, plates, bowls, pots, fry pans, tableware, etc. It keeps everything separate, allows better drainage, and maintains good kitchen hygiene.

Over-The-Sink Design: Fits snugly on top of any sink to drain, without taking up the counter space. You don't have to worry about splashing or dripping water on your counters anymore!

Multi-purpose: Can also be used as a handy colander for fruits and vegetables, a defrosting rack for meat & fish, a bread cooling rack, or a trivet to protect countertops from hot pots.

Easy Storage: This rack is fully expandable and collapsible, which is an ideal option for kitchens with limited space. When it is not in use, you can just roll it up for easy storage.

Premium Quality: Made of premium stainless steel, which is durable, anti-rust, and heat resistant. It can easily support your heaviest cookware without bending.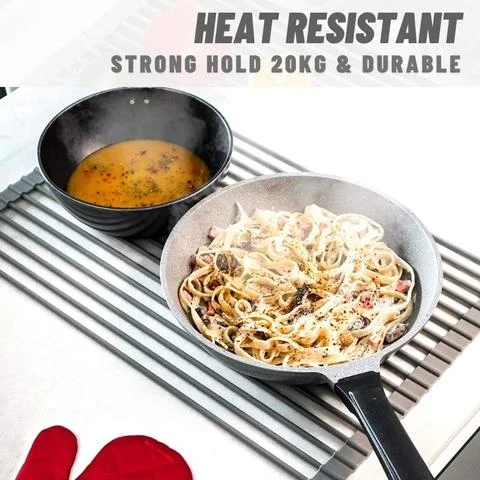 Package Includes:

Roll-Up Dish Drying Rack x 1.
SHOP WITH CONFIDENCE